A building steeped in Singapore's history, an iconic London sculpture, Dutch wax-printed fabric (popularly known as African batik) and a traditional Javanese batik motif – these elements come together in a new work by renowned artist Yinka Shonibare CBE, Justice for All, now on display at The Arts House.
Shonibare's illustrious career and the global acclaim he enjoys (he has been a Turner Prize nominee, was elected a Royal Academician by the Royal Academy, London in 2013 and is a Commander of the Most Excellent Order of the British Empire) means that most of us are well acquainted with his oeuvre. Visit a contemporary art museum in any major city in the world and there's a good chance you'll come across a Yinka Shonibare work, like this one that I encountered on a visit to the Tropenmuseum in Amsterdam.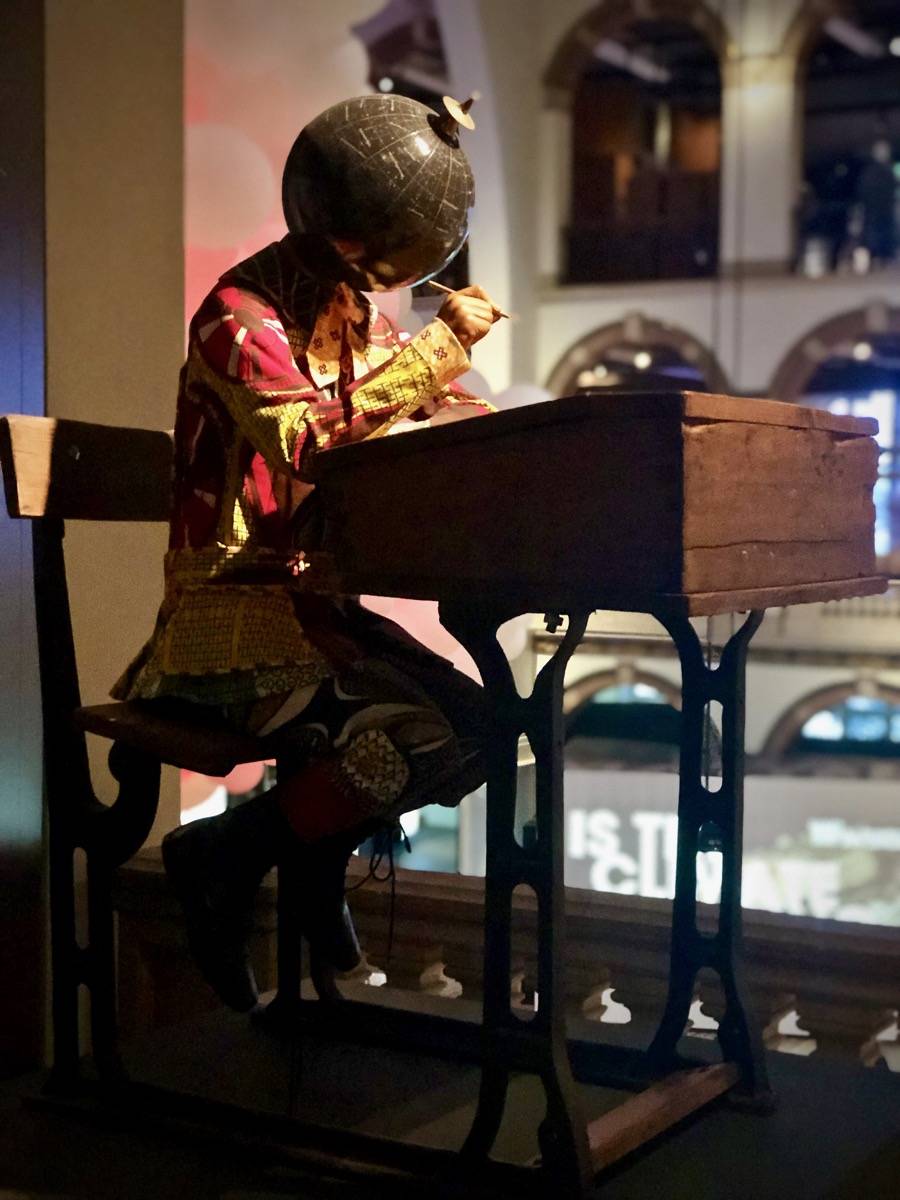 Unmistakably a Shonibare sculpture, it bears a couple of his signature elements – the colourful and gaily patterned Dutch wax-printed African batik fabric that he deploys to explore issues of cultural and racial identity, colonialism and post-colonialism, and a globe in place of its head (earlier Shonibare sculptures were generally headless).
When I first learnt that a new site-specific installation by the artist was to be unveiled here in Singapore at The Arts House in conjunction with Singapore Art Week 2020, I was both thrilled and intrigued. The Scramble for Africa, which saw the proliferation of European claims to African territory and which Shonibare, a British artist of Nigerian descent, references in his work, shares parallels with Singapore's own history of subjugation to a Western colonial power. The building in which the work was to be installed, The Arts House (also known as the Old Parliament House), has a storied history of its own – built by a Scottish merchant, used by the British as a colonial-era courthouse and then serving as House of Parliament for a newly-independent Singapore.
And then, of course … there's batik. Inasmuch as we, here in Southeast Asia, lay claim to batik as part of our unique cultural heritage, Dutch wax-print batik (with its origins in a failed 19th-century attempt by Dutch textile merchants to mass-produce Indonesian batiks and resell them to their country of origin) is viewed as a marker of "authentic African identity" and was the favoured attire of African anti-colonial nationalists in the 1960s.
What, I wondered, would Shonibare make of these resonating echoes, these parallel threads in the histories of otherwise disparate regions and peoples?
The immersive, site-specific installation Justice for All does not disappoint. It comprises a sculpture, standing front-and-centre in what was once Singapore's legislative chamber, and African and Indonesian batik fabric covers on the seats where Members of the Singapore Parliament once sat to debate national policies.
The sculpture is a re-configuration of British sculptor F.W. Pomeroy's Lady Justice. An iconic London sight, the original 12-foot bronze statue, clad in gold leaf,  stands on the dome of the Central Criminal Court, otherwise known as The Old Bailey. Shonibare, however, has dressed his Lady Justice in brightly-patterned African batik fabric, and decorated her neck and arms in a traditional Javanese udan liris ("soft rain") batik motif, making this the first time that the artist has incorporated Indonesian batik in his work. A type of garis miring pattern, characterised by how it runs diagonally, udan liris was once the exclusive preserve of Javanese royalty and could not be worn by commoners. Like the original, Shonibare's Lady Justice holds a sword in one hand and the scales of justice in the other but, in place of a head, sports one of his signature hand-painted globes.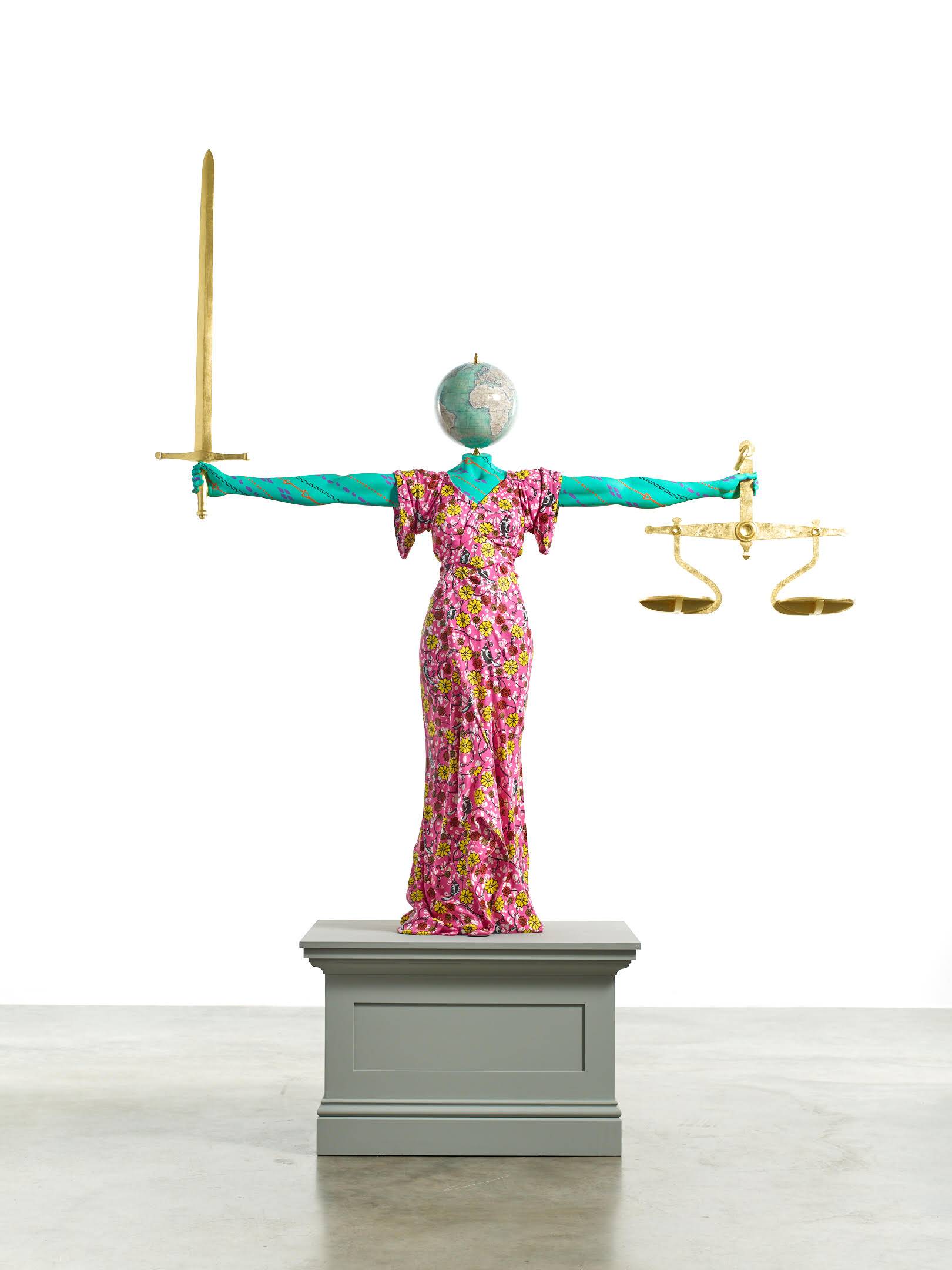 With Justice for All , Shonibare (working with curator Dr Zehra Jumabhoy) proffers an elaborate collage, mixing historical and cultural signifiers in imagined, ironic and, at times, incongruous conjunctions. History, while implicit in the work, is invoked to haunt rather than take centre stage. Shonibare applies a deft and light hand while dealing with weighty issues like colonialism, power imbalances, justice, identity and inclusion. He prefers, he has said, not to be prescriptive or didactic, but to leave room for the audience whom, he says, "completes the work", to draw their own conclusions.
The playful juxtaposition of seemingly disparate elements in Justice for All invites the viewer, not merely to recollect the past, but to make critical, even creative, leaps so as to uncover connections and find new meanings. The counter-histories that reveal themselves through the work serve to deepen our understanding of the past while also enabling us to reflect on our  contemporary postcolonial, hybridised present.
________________________________________________________________
Justice for All , curated by Dr Zehra Jumabhoy of the Courtauld Institute of Art, is presented by The Asian Art Institutum, together with The Arts House and Stephen Friedman Gallery, London. It is on view, along with two short  films by Shonibare, Un Ballo in Maschera (A Masked Ball) and Odile and Odette, at The Arts House from 13 to 30 January 2020. (Please note earlier closing times over the Chinese New Year holidays).

This article is produced in paid partnership with The Asian Art Institutum. Thank you for supporting the institutions that support Plural.