"The studio is where strange magic happens, as much for the artist's imagination as for the public's. It's the conjuring place of new concepts, styles, or forms."
This article is the second in a series of interviews with artists in their studios, in which we attempt to explore artists' working habits and the places that nourish them.
She's a scientist, an artist, and now, a fruit seller.
Armed with cans upon repurposed cans of pinhole cameras and a darkroom-in-a-tent, French artist Isabelle Desjeux takes over a fruit shop space in the Lengkok Bahru neighbourhood for two months. Her goal is to work with the children of the neighbourhood to create pinhole photography images of the neighbourhood, and in doing so, discover a different side to seeing that which otherwise may be taken for granted as part of the everyday.
We sit down in her erstwhile studio to find out more about the project, the value of a good question, and the importance of just showing up.
Michelle Lim (ML)
You're looking very… lively!
Isabelle Desjeux (ID)
(laughs) It's this suit I wear every time that I'm here. It's the right colour because on photographs, it just stands out! The way cameras are calibrated somehow pink just really works. But yes, the suit is an important part of people recognising me. They can see me from far, and I love it because the kids say hi. That's part of the whole thing – I want to be recognised when I walk around. I try to be here every day and show my suit every day. It's a way of engaging the community in dialogue.
ML
So tell us about this project that you're working on right now.
ID
This project is a community-based one and it's called Pin-Hole Photography in the Neighbourhood. For this, I have been working with Lin Shiyun from 3Pumpkins, which is the name of her non-profit company for the arts. I am just one of the artists among a team of students, other art practitioners and the Social Services engaging with the community (especially children) over a few months, for a larger community placemaking project entitled "Seeing The Obvious". Which is a very nice way of putting it because it's like saying, I'm seeing things, and do you see these things too? Let's have a look, let's spend the time together to consciously look at something. To me, it is about engaging directly with the children for mutual inspiration.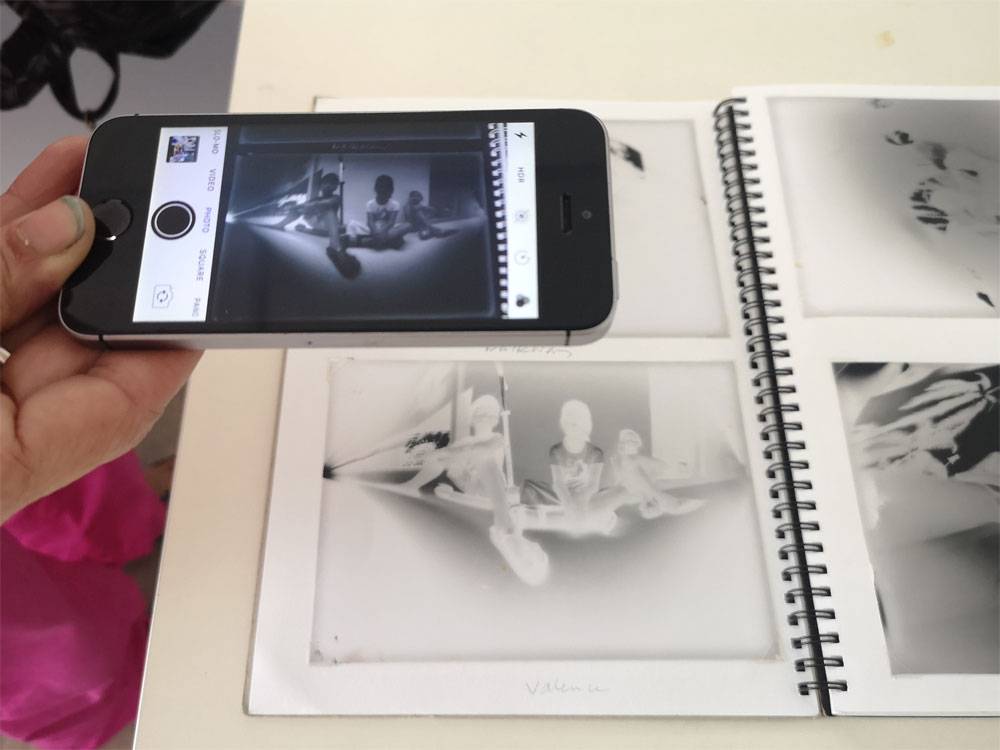 ML
How did you guys end up being housed in a fruit shop?
ID
Shiyun mentioned casually one day that it would be nice to have our own space to run some of our programs, as an alternative to the playground and the Family Service Centre at Block 50 where we were previously working out of. She had spotted an empty fruit shop near the coffeeshop at Block 55, and made enquiries to rent the space.
I liked the idea, and suggested crowdfunding to pay the rent, manpower, and consumables that would go with the project. In the process of making the video for crowdfunding, the owner of the shop came forward and told us that because he felt that the project was worthwhile, he would offer the space rent-free to us…The loophole being that the shop must operate as a fruit-shop too, in order to comply with HDB regulations. No problem!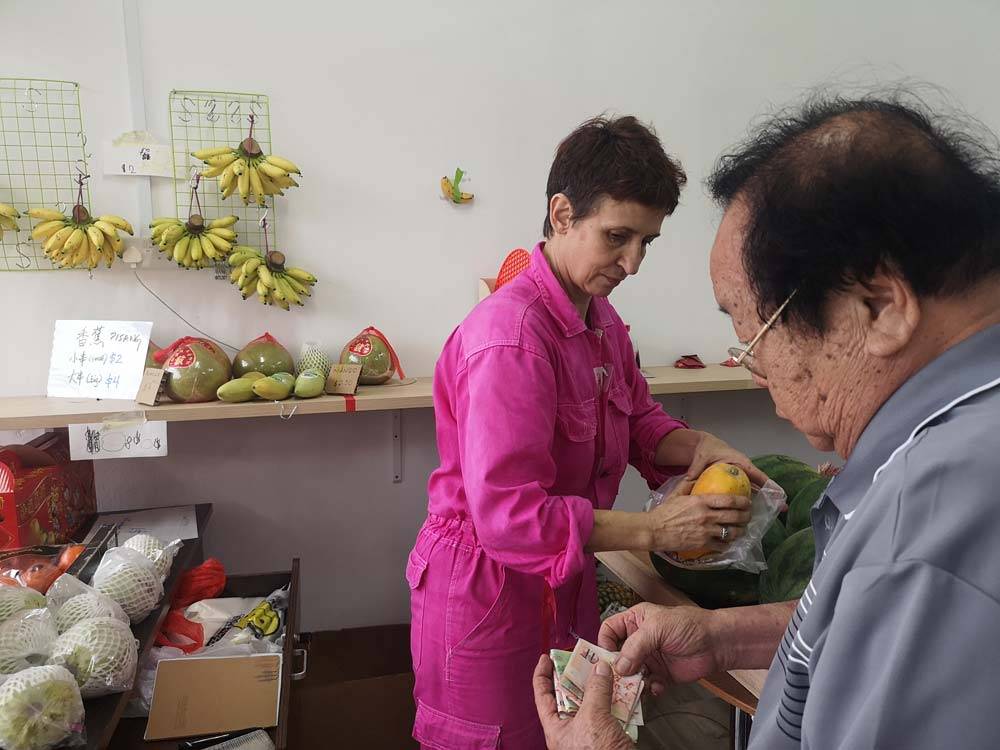 ML
So who's in charge of selling the fruits?
ID
Whoever's here – the 3Pumpkins team and I sell fruits to the neighbourhood. We make sure there are plenty for the kids too, while running our own activities.
ML
Looking around, I see many contraptions that you've fashioned out of very modest materials. I remember you previously mentioning that you like to 'just cowboy it'. Could you tell me more about what you mean by that?
ID
(laughs) I like to make things as simple as possible. I like to use what I have around – why? There's something exciting about realising that a can can take a picture. You could buy these pinhole cameras that are made of wood and are nicely finished, but then it looks like a camera! Of course it takes a picture. But this is a can that I just drank Coke out of, and now you're using it to take a picture. Then you figure it means, surely I can understand the technology. But when you open it there's nothing! It has to be so simple that it makes you want to understand the mystery of it.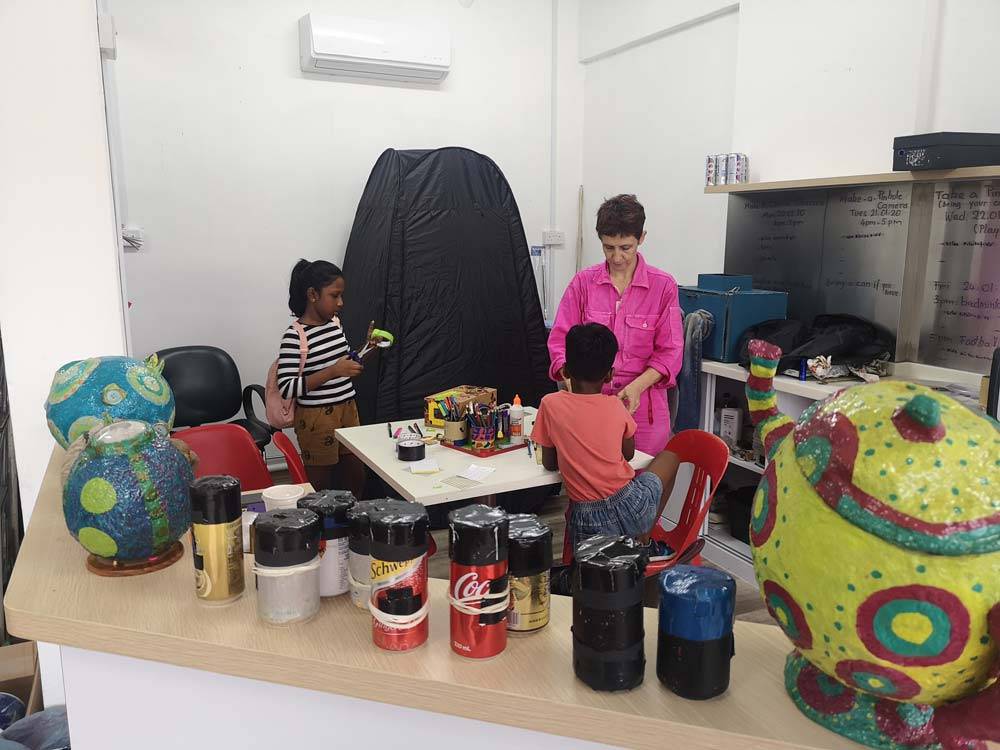 ML
But this extends beyond the pinhole camera, right? Like even, let's say, setting up the darkroom. You do the barest minimum – but it works! I'm curious about that.
ID
Well it's so easy to make things complicated, but I think it's empowering to know that you don't need very much to be able to do the thing that you want to do. For example, I don't actually need any electricity to take a picture. You find what is the minimum that you need, and you work from the minimum. That way, even if it fails, I haven't lost anything. When it comes to making or showing others how to make, using simple, low-cost and easily available material makes it easier for it to be replicated. And yes, one of my goals is to get more people doing it.
With time, it has also become a game, and something I thrive on: making as nice a result with as simple starting material as I can.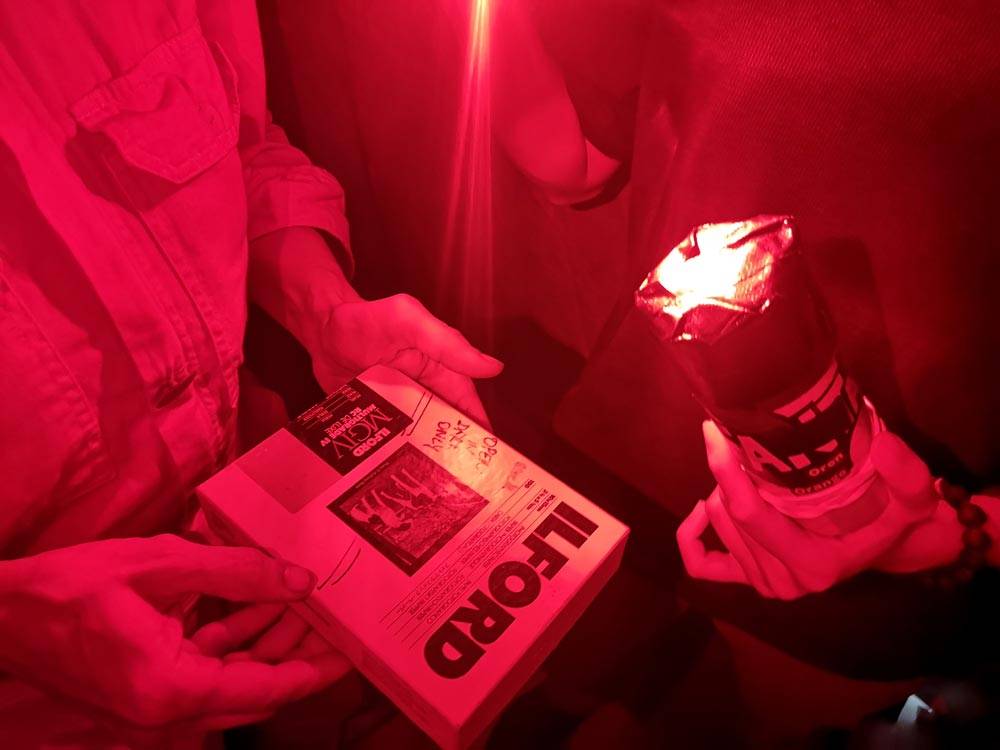 ML
What fascinates you?
ID
Things that I see that I can't explain. Thinking that you see something but it's different. I marvel at people who can marvel at the smallest things and aspire to be like them. I have also tried to teach my kids to find joy in the small things.
ML
What do you find are the differences or similarities between art and science?
ID
Depending on when you're asking me I give different answers.
ML
(laughs) That's interesting – What changes in between?
ID
I think it's- maybe there's things that change in between but also the perspective that you're looking at it from matters. I find that people tend to misuse the word 'creative' in the same way that they also misuse the word 'science' – they think 'science' is a bunch of facts, and that 'creative' is chaos.
But creativity is about finding questions that you can actually answer – and it applies to both art and science. The way that people see science in Singapore is that it's a bunch of questions that have a bunch of answers. But science is not about answers; it's about the questions! Anything that we know now could be different tomorrow, so it's much more important to know how we got to the answers rather than what the answers actually are.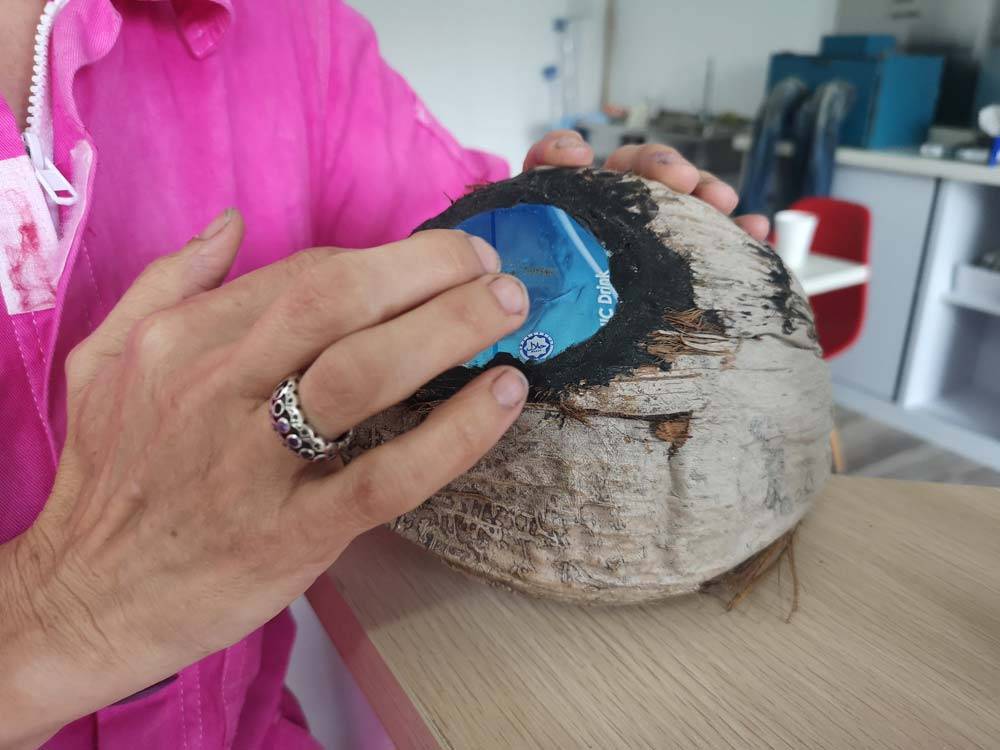 ML
What kinds of questions do you ask in your own artistic process?
ID
I like to explore for exploring's sake, and it's the same energy I was putting into my scientific work. My projects – whether it's the rubber seeds, giggling weeds or Buang – all started this way. A later part is the question of how to resolve the research in order to present it to the viewer. I am never just making work for myself; that wouldn't make sense for me.
ML
Why do you think that is the case – that making art doesn't make sense without an audience?
ID
Because that is to me, the definition of art – to make the viewer see the world differently. So I'm the first viewer of my own art; I need it to see the world differently. But once I have done so, I want my viewers to also get in and see the world differently. Which is why a lot of my art is actually participatory, in for example being laboratory set-ups, where people can imagine that they are the scientists running the experiment. And the scientist running the experiment suddenly gets that 'Aha!' moment of discovering things in a certain way.
ML
Do you think it's a waste of time if just one kid comes by in an afternoon?
ID
No, yesterday there was just one kid. For me it's about connecting with people and making sure you don't have too many expectations. So I come every day, and be regular as I can. Because something happens if you show up every day. That's why I do the camera. Even if one kid shows up, just do it. Then in the process of doing it, you understand more about why and how you're doing things, and then you can progress and move on.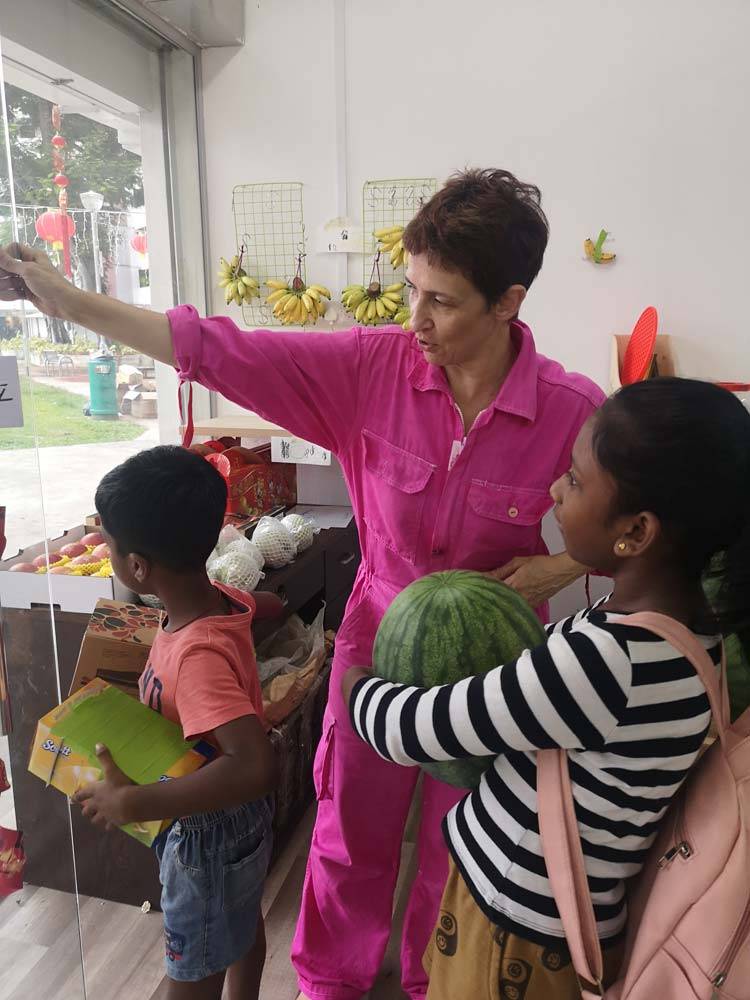 ML
What sort of advice would you give to someone who is trying to figure out what the right questions are?
ID
Well, do you get excited by them? Do you get excited, or discouraged? And I think also the first thing that people should know is that it's ok to ask questions. But don't ask questions for others to answer for you, because then there's no point. If you do that, you won't remember the answer, and it wasn't that interesting a question to you.
The right question shouldn't be so easy that you know the answer already, or get the answer too quickly, but one where you can imagine what tools you need to answer, and tools that you might be able to have. It's the same as making something. You might think, I can make this, but I need all these things that I don't have – then what's the point?
______________________
"Seeing the Obvious" will open on 15 February from 4 to 7pm at King of Fruits, 55 Lengkok Bahru, Singapore 151055. The exhibition will run from 16 to 23 February, and conclude with an artist sharing session from 2.30 to 4.30pm on 23 February. 
Desjeux is currently raising funds for this project. If you'd like to contribute to her campaign, click here.
This interview has been edited and condensed for clarity.