A woman in a black dress and heels chases a chicken around a room, her futile efforts the source of much bewilderment. The woman in question is none other than famed Indonesian performance artist, Melati Suryodarmo. On the occasion of her first solo museum survey at Museum MACAN, I look back on the major works in Melati's oeuvre.
I am no stranger to Melati. Encountering her work during my Masters felt so much like making a new friend that I eventually wrote my thesis on her. When our paths crossed over the course of my research into her practice, Melati shared many stories about the challenges that she had faced in her life. From her difficult marriage to her ex-husband, to living in Germany far from her Indonesian homeland, and the feelings of isolation that that had ensued, I felt a keen sense of kinship with this performance artist. After all, these stories of divorce, relocation, and reinvention were also significant parts of my own story.
It is thus with easy empathy that I understood how Melati's many strenuous performances spring forth from a deeply-rooted perseverance despite life's many challenges. In her work, we glimpse the artist's struggle for identity, a sort of psychological death of the self, and then a rebirth as she rediscovers the person that she is today.
Why Let the Chicken Run?, re-enacted for this exhibition, is a short durational performance of 15 minutes where Melati uses the chicken chase to symbolise our "relentless pursuits in life". She intends the performance as a response to the late Cuban artist Ana Mendieta's work, Death of a Chicken (1972). The latter performance is easily the more gruesome of the two – in it, Mendieta holds a freshly decapitated chicken, its spasming body splashing blood all over her naked body.
As a Cuban-American, I immediately recognise in Mendieta's Chicken the ritualistic tradition of Santeriá – a religious practice that combines Afro-American elements, such as animism and spiritism, with Roman Catholicism, which is commonly practiced in Cuba. When I asked Melati about this homage to Mendieta's work, she explained that, much like Mendieta, she is less interested in the ritual context than she is in the use of the chicken as a symbol. When she first performed Chicken in 2001, Melati was developing her use of animals as a live element in a public performance.
She has since incorporated other animals into her performances. In Lullaby for the Ancestors (2001) she walks in a big circle around a horse, cracking a whip, before putting her head inside a bucket of water. She repeats these actions over and over for 20 minutes. Using these actions as a means of entering a trance state, the work was Melati's attempt at synthesising elements from ancient Javanese rituals with her own personal vision, to create a state that is free of cultural and genetic tethers.
In that same spirit of exploring rebirth, Melati conceptualised her excruciating, 12-hour long performance, I'm in a Ghost in My Own House. This seminal performance takes the physical home as its context, to investigate our emotional understanding of the home, and how we exist within it. Through this work, Melati asks: how do we connect to the occupants of our home? What gives us value here, and what are our functions in this domestic life? For Melati, and myself, this performance conveys that isolating experience of being in a marriage, yet feeling alone.
Grinding down hundreds of kilograms of charcoal, she embodies forces of destruction. As pressure breaks the material down to powder form, so are we transformed and reborn by life's changes. Thinking back on Mendieta's Chicken, one can see the parallels in how Melati's Ghost performance incorporates violence, powerlessness, and death. The blood in Mendieta's work is a tool to transform herself from a sacrificial victim into a new, more powerful being; Melati chooses charcoal to transmit similar ideas.
Much like Ghost, the 20-minute Butter Dance conveys life's challenges and Melati's determination to overcome them. The performance is minimalistic and focused, and reflects on life's journey of ups and downs, something we can all relate to. First performed in 2010, Melati dances on a slab of butter, painfully and repeatedly falling down and getting up. This performance was first conceived of during her early days in Germany when she was training under Marina Abramović.
Melati tells me that at the time when she first performed Butter, fear was driving much of her life. She was questioning where she should go after her time in Germany. Marina, her friend and mentor, was producing work which cost less than ten euro to produce and as artists, they didn't know how to anticipate the tumultuous economic situation at the time. Having an existential crisis and fear of life, she kept asking herself, "Do I deserve a dream?"
When she uttered those words, I thought to myself: "I get that. Been there, done that, bought the tee shirt." This has been part of my life's journey as well in trying to embrace my true self and live an authentic life.
Melati's choice of butter as a material is a symbolic one. It had not been part of her Asian diet before she relocated, and consuming so much of it in her new country made her gain weight. About the moment when she falls, Melati says, "The insecure moment is breathtaking. People react and think: When you fall it must be painful." In fact, many things in life are painful, but Melati doesn't shy away from it. Instead, she uses it to question.
Melati has said that she does not want to control. Instead, she wants people to approach her work through their own senses. She encourages us to engage in the art of participating, rather than just digesting the aesthetics of an artwork. Ultimately, a performance work affects its audience psychologically, each in our own way. What I have learnt from Melati is that in a performance, there can be tense moments which take your breath away, which then prompt us to react and reflect on our own lived experiences. Like this, the performance becomes a sort of shared communion, or exchange, between the artist and the spectator.
Insisting that this exhibition is not a retrospective, Melati says that it is based on years of research, as well as her life experiences. For example, Mendieta's Chicken performance was one of Melati's early inspirations, in her nascent days when she had been tasked, alongside other young performance artists, to respond to the canonised works of previous trailblazers.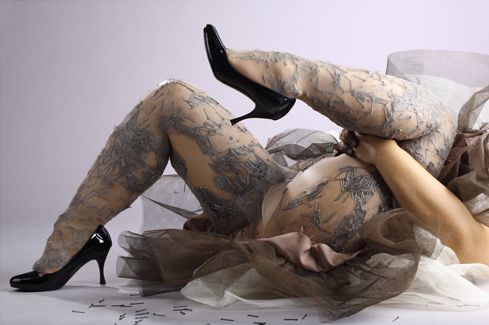 Although she has been deeply influenced by her teachers, her oeuvre is also affected by the works of many non-performer artists, such as Egon Schiele. Schiele's sway on her is perhaps most evident in one of her photographic self-portrait series, The Acts of Indecency (2012). Here, she wears a tutu and torn stockings filled with nails and ping pong balls. Erotically, and almost crudely, she exposes her legs for the camera lens, sensually capturing controversial gesticulations. Much like Schiele, Melati conveys the exposure of female bodies, but her work additionally illustrates the speed of digital culture, self-exposure, and erotic indecency. These are works born from her research about women when they are exploited in 'indecent' ways, and the plight of domestic workers in foreign countries.
With all of Melati's works, the conversation centres around the body and how it acts as a container for our memories. Using her body again and again, she drives the point home that each of her challenges in life make up her identity; that each failure has been deeply felt, like a death. Like most of us, she has often chased the chicken, relentless in her desire to overcome. But life is coming full circle for Melati, and she is looking forward to understanding the other side of trauma and the happiness that comes from within.
I asked her about the theme of death in the works that make up this exhibition, and her having recently lost her beloved father, the trailblazing meditative performer, Suprapto Suryodarmo. Serenely, she talks about accepting that everyone eventually dies, and encourages us to come from a place of love rather than be afraid of it. "I am tired," she says, "Now it is time for love."
______________________
In the interest of public safety, Museum MACAN is temporarily closed until further notice. Please click here for more information. 
Why Let the Chicken Run? presents seminal works from more than 20 years of Melati Suryodarmo's art practice, including 12 performances such as The Black Ball, Sweet Dream Sweet, and Eins und Eins, and artefacts from past performances. The exhibition was originally slated to be shown from 28 February to 31 May 2020 at Museum MACAN in Jakarta, Indonesia.