When I was five, my father and I painted a mural in my old room. I remember only a little of it; its sprawling expanse, the muddy colours and smiles I had sloppily painted, and the sensation of pure joy that arose as I defiled the white wall with colour. Looking at Thai artist Mit Jai Inn's Color in Cave gives me a taste of this memory. 
Though as a teenager I am still very much young, childhood seems like another world altogether. In school, even in art school, we are told not to play. Make serious art. But what is 'serious' art anyway? Who's to say that art cannot be playful and meaningful at the same time, and that everything has to be so sombre? 
Color in Cave is the antithesis of the cold brand of contemporary art that we have grown to expect in museums and exhibitions. The artist himself views the work as a refuge from the pressures and expectations that children face at home and in school – it is a place where imagination lives and play rules. 
Before participating, the participant dons a set of white robes, which Mit describes as a costume. This ritual-like action "makes them feel they are doing something special, that they have a moment and space to transform," he remarks. Elaborating on the purpose of the costume, he says, "a uniform can ask for equality, it can make us think of labour, (but) it can also assume fiction".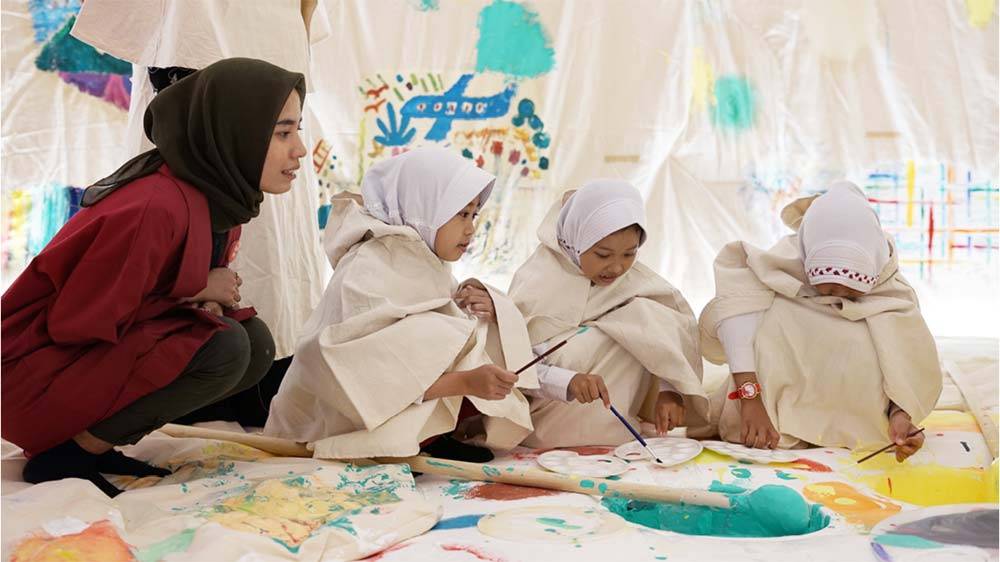 It reminds me of dress-up, in the way that one must cast aside one's inhibitions and prepare to enter a fairytale realm. It's a bit like a game my cousins and I used to play, in which we dress up in blankets and telekungs, or Muslim prayer garments, in preparation for our great pilgrimage across a winter landscape (by which I mean the bedroom covered in sheets, and the air-conditioning turned down to 16 degrees).
Upon entering the titular cave of Mit's installation, visitors are bombarded with the colourful and undoubtedly free-spirited doodles of children. The space becomes a sanctuary, as soft white sheets drape down to hide participants away from the outside world. Messages of positivity coat these curtains, waiting to be uncovered. To me, Color in Cave is not just an artwork; it is another dimension altogether. Cocooned away, life unfurls from the paintings within the cave.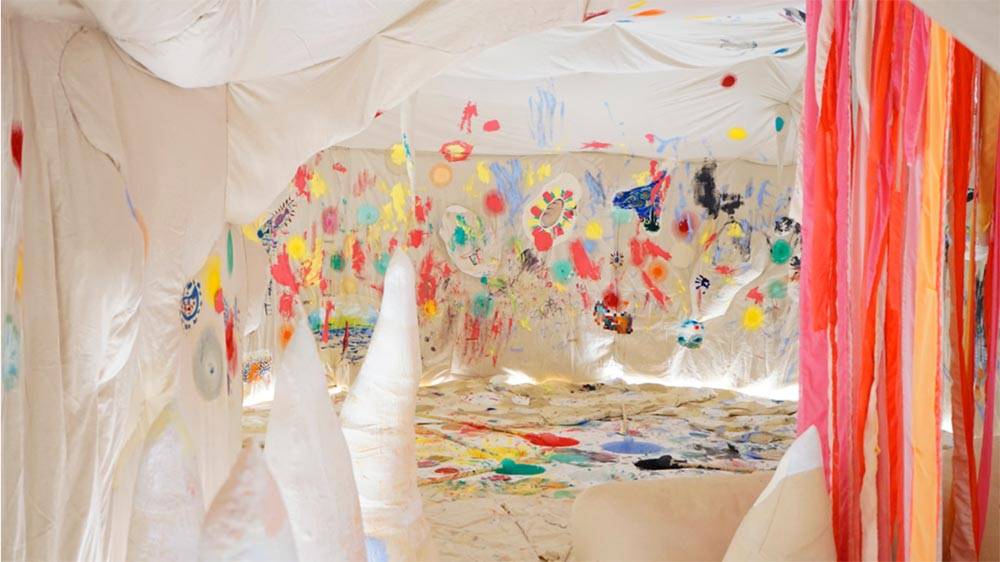 To Mit's mind, "Caves are dark places that become so coloured and patterned by the interaction of different life forms. They are like a womb, the beginning space where life grows." Caves have historically served as a place of shelter, and are often also the site of sacred rituals. The artist also points out that "art history begins its narrative in the cave."
In this way, Color in Cave is a return to simpler and more primal times, and a reminder of how the desire to create is a fundamental one. It is the participant's need to make that instigates the piece – without human interaction, Color in Cave would be little more than a heap of blank sheets. But that is the beauty of the art.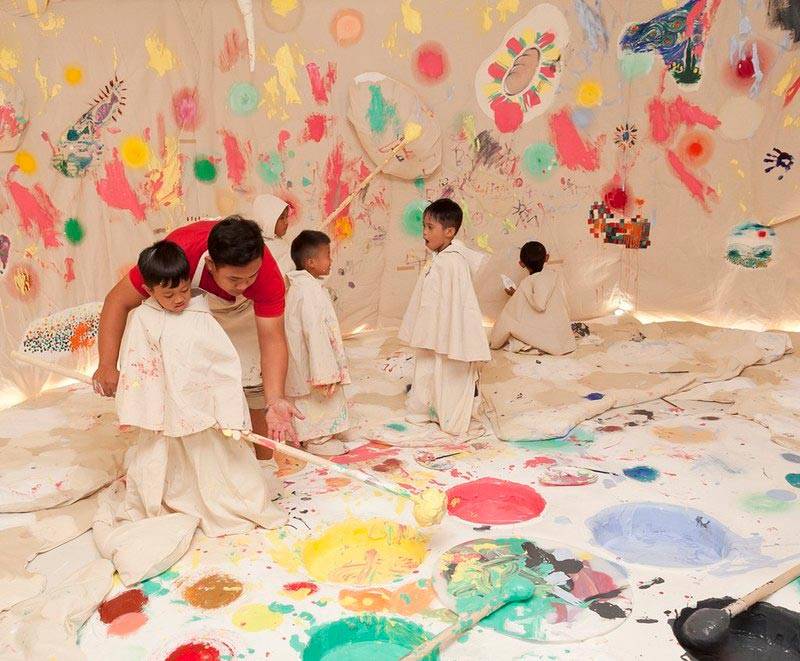 ______________________________
Color in Cave was commissioned for the UOB Museum MACAN Children's Art Space in Museum MACAN, Jakarta. It is on view until 1 March, 2020.