This article by Wenxin Gao won first place in the Short Form Lucha Libre 2020, a writing contest jointly organised by Plural Art Mag, the Singapore Biennale and the International Association of Art Critics, Singapore Section (AICA SG). Heartiest congratulations, Wenxin!
Looking at art has a stereotype of being a contemplative and silent affair. A hush often falls over the viewer as they try and understand what is before them. You get it, and you nod appreciatively, or you don't get it, and you move on. It's difficult to find the words at first glance.
So when I visited the Singapore Biennale with my mother, I didn't expect to start chit-chatting with her about the variety of household objects nestled in the mixed-media installation, Intimate Apparitions (2019), by Singaporean artist Khairullah Rahim.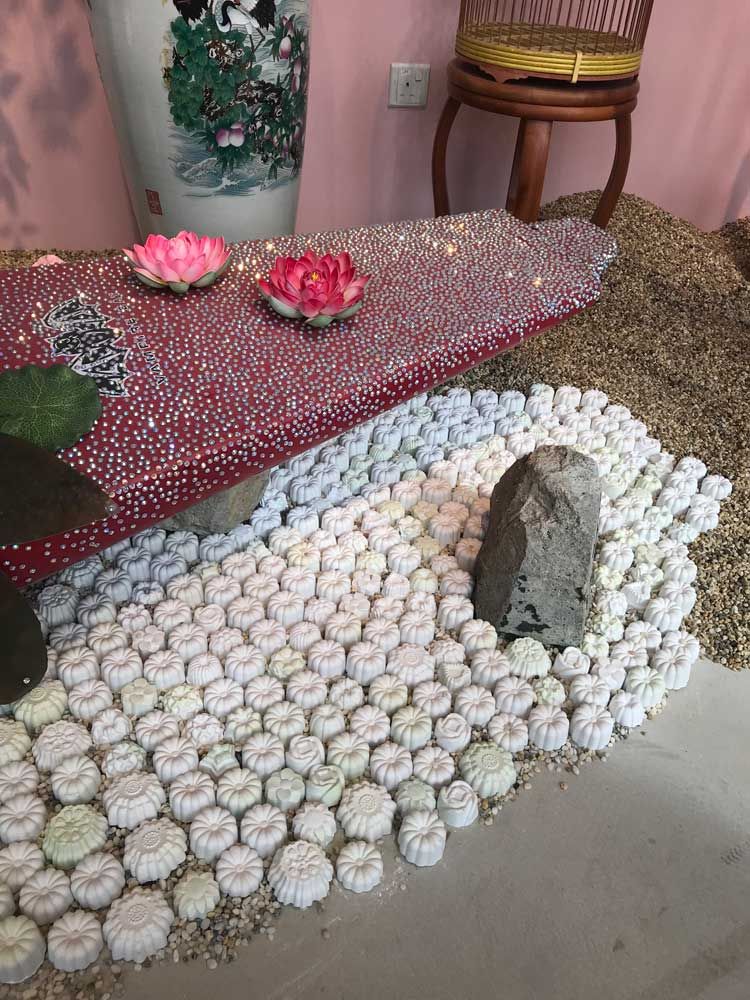 "What kind of moulds are these? Is it for kueh?" my mom asked, pointing at the various moulds scattered on the ground. They littered the floor like small white and green flowers.
We spent more than a quarter of an hour in the bright pink room, looking at the installation from high and low, puzzled and delighted at every turn. It was incredible to see how the objects were being transformed and arranged to look like flowers, butterflies, and gazebos. Amongst the decor are several artful headpieces resting on mannequin heads, but upon closer observation, the sparkles and textures reveal themselves to be common items like spoons and brushes.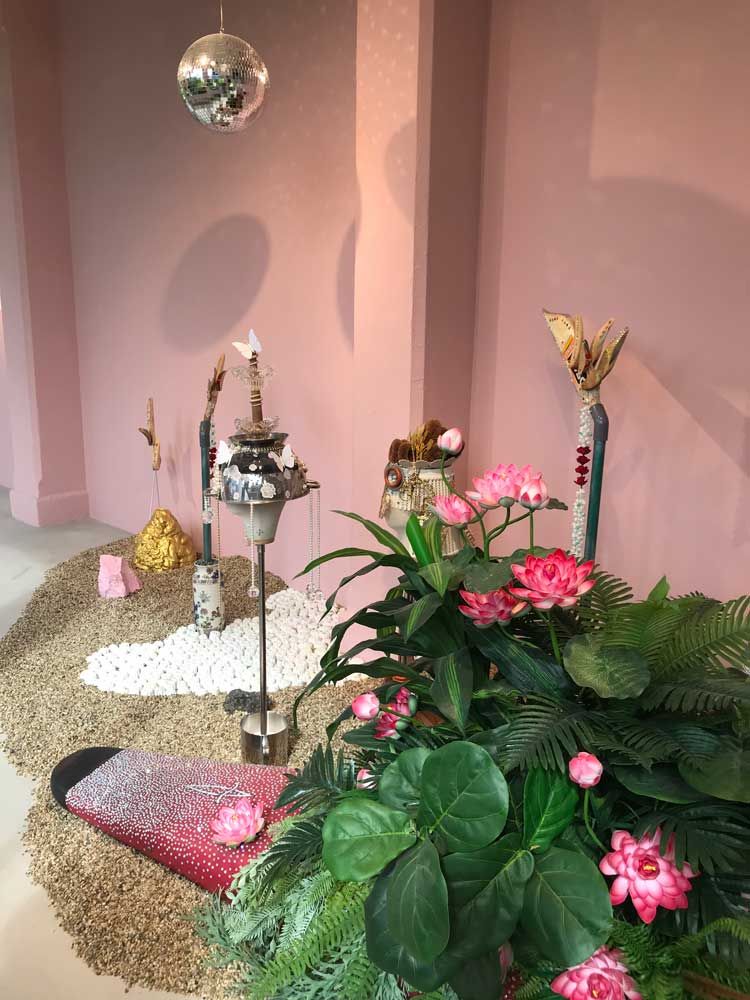 The greenery of the open windows behind us crept in as an extension of the garden-scape. A small disco ball gently swayed and danced above our heads. As a lover of maximalist aesthetics, the visual appeal was so satisfying.
In the next room, I stood to admire the series of photographs that accompanied the installation. The photos were placed sparsely around the room, so it took some time for me to look through them all. I took photos. I moved on to the other exhibits. I went home.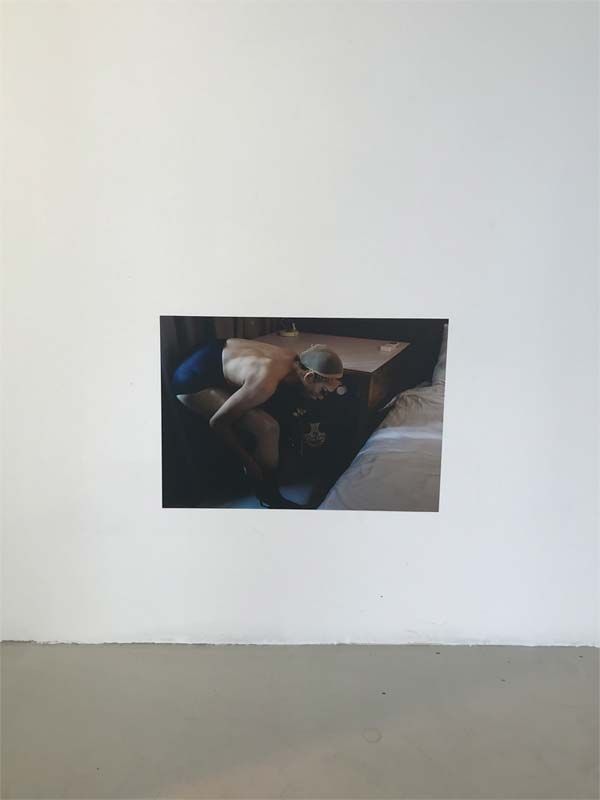 As I reviewed my photos, however, I found myself stopping short at a photo of a drag queen putting on her garments. The photo was not placed at eye level, so I had probably overlooked it during my visit. Only then did the contents of the installation finally come together for me.
Suddenly the crystal studs on the canoe weren't merely decorative, but echoes of how queens would painstakingly "stone" their leggings or costumes with crystals so they could shine the brightest under the limelight. The disco ball and headpieces were the more obvious symbols of performance, illusion, and disguise.
The wall label for this work asks the question: What does it mean to regard a place as "public" or  "private"? Sure, the average viewer will look at the installation, as my mother did, and be able to enjoy its visual riches. But the vignettes on the wall carve out a more private space for those with a more intimate understanding of the drag community, like a looking-glass into another world. They hint at the admiration the artist holds for the campy decorative styles used by drag queens.
"For camp art is often decorative art, emphasising texture, sensuous surface, and style at the expense of content," writes Susan Sontag in her essay, Notes on 'Camp'. Here, I believe the photographs accompanying the installation, titled Intimate Apparitions (sightings) and made in collaboration with Taufiq Rahman, go a long way towards subverting the camp aesthetics of style over content.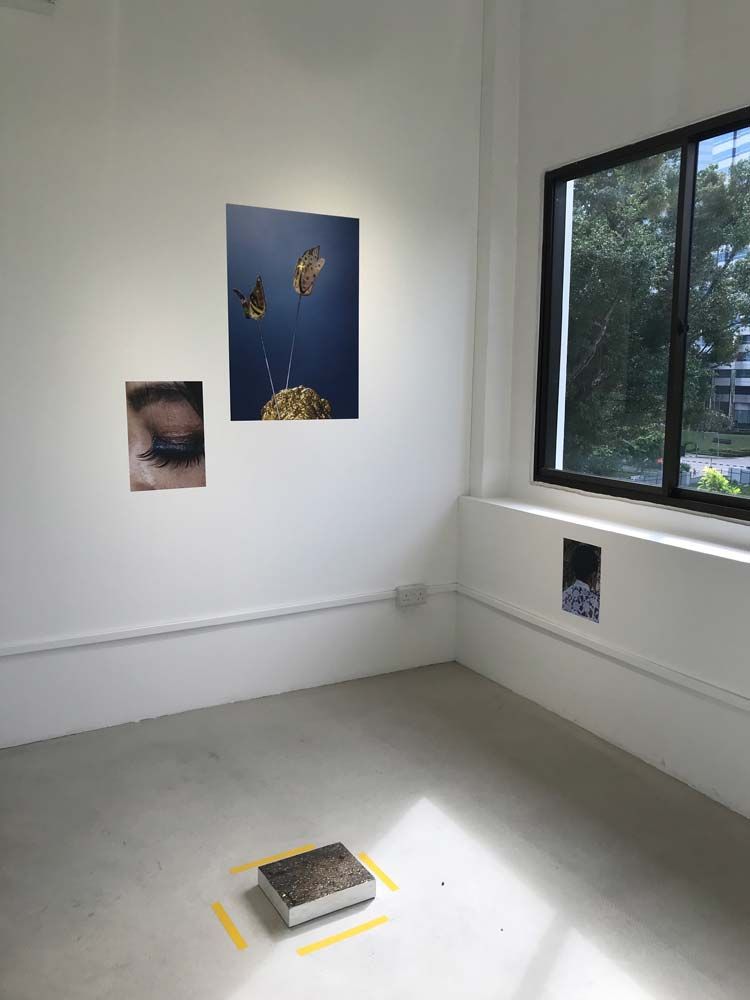 Khairullah Rahim has opted for a very subtle hand in creating layers of meaning by way of accessible glamour, opening up viewers to a community that they may not be familiar with. Perhaps a little too subtle, but there is a lot to be said about his choice to picture the faces and bodies of his drag collaborators in what could have been just a solitary assemblage piece.
Alessandro Michele, the creative director of Gucci, said of the camp aesthetic, "Camp is a beautiful word, it hides all the secrets of those who want to exist." It is, of course, impossible to boil down the complicated and marginalised existences of drag queens into just one work of art. But what Intimate Apparitions offers is a delicious contrast in how the loudest and most flamboyant of styles can hide within it, so much left unsaid about the lives of its practitioners.
________________________
Intimate Apparitions is on display as part of the Singapore Biennale 2019 (ongoing until 22 March 2020), at Gillman Barracks (Block 9). 
Interested to see more of Khairullah Rahim's work? His upcoming solo exhibition at Yavuz Gallery, Gathering of Flocks, will be on view from 28 March to 12 April, 2020. 
PLURAL IS PROUD TO BE AN OFFICIAL MEDIA PARTNER OF THE SINGAPORE BIENNALE 2019, WHICH RUNS FROM 22 NOVEMBER 2019 TO 22 MARCH 2020. FOR MORE INFORMATION, PLEASE VISIT SINGAPOREBIENNALE.ORG.