A distinct memory from my childhood is being awakened by the shrill, repetitive and, honestly, quite annoying "koo-Ooo… koo-Ooo" outside my window. I would later learn that this was the call of the Asian koel, a persistent and recognisable presence in the local morning cacophony of Singapore.
It's strange how you don't notice the sounds of bird calls until you start listening out for them – but once you do, they emerge clearly against other human, mechanical and environmental sounds. This entanglement of everyday avian and urban sounds is core to the rich, multimedia installation that is Railtrack Songmaps Roosting Post 2, an ambitious and complex exhibition by The Migrant Ecologies Project, currently showing at the Esplanade's Jendela Gallery.
"Anyone who's grown up on this island knows not to expect anything permanent."

– excerpt from interview script, Railtrack Songmaps
Railtracks Songmaps focuses its attention on the site of Tanglin Halt, one of Singapore's first public housing development estates. It's an HDB estate full of history and character, situated alongside the former railway line that ran to Kuala Lumpur. Redevelopment has become such a key characteristic of the urban landscape here in Singapore, that it is no longer surprising – shockingly banal, even – to speak of the ongoing demolishment of the neighbourhood.
However, rather than fixate on the mourning of this loss, The Migrant Ecologies Project (comprising Lucy Davis, Kee Ya Ting, Zachary Chan and Zai Tang) turn their lens, or rather, their ears, toward the pockets of vibrant biodiversity and the entangled relationships between the local inhabitants of Tanglin Halt – human and non-human. Specifically, it invites the attunement of one's senses to ephemeral encounters with bird-life – the trilling of birdsong, the rustle of leaves, a flash of movement, the shifting shadows cast in the sunlight. Intentionally defying the fixing gaze of high-definition, long lens bird photography – this increasingly popular hobby that carries a predatory dimension of competitive collecting or capturing (and hence "owning") images of birds – it adopts, instead, a mode which Lucy calls "story-telling like shadows through leaves", an immediately subtle approach which comes across as a clear aesthetic decision in the exhibition at the Esplanade's Jendela Gallery.
The show at the Esplanade is broadly split into two sections – the first is composed of an intricate nest-infested installation in which branches and various other materials intertwine and take over multiple suspended wooden blocks that reference the now-demolished Chap Lau Chu housing blocks. (Fun fact: Almost all the Tanglin Halt blocks built by HDB in the 1960s were ten storeys tall, hence resulting in the name chap lau chu, or "ten storey house" in Hokkien.)
The nest as home for habitation by birds literally intersects with the immediately recognisable replica of the HDB point blocks, and hints to a larger daily co-habitation of the community with their avian counterparts. From within these suspended structures, videos shine through the branches and project outwards onto the surrounding walls. The short films are collages of 32 bird species-specific portraits (from the brightly coloured burung kunyit besar (black-naped oriole) to the ubiquitous tekukur (spotted dove)) that piece together stories based on observations and interviews with residents, members of the Nature Society of Singapore, rail corridor walkers, bird enthusiasts and caged-bird collectors, biologists and activists.
These stories overlap with artistic interventions through a method that The Migrant Ecologies Project calls "avian bird rewild", where hundreds of images of birds found online were physically cut and "rewilded" into the frames, appearing as silhouettes in locations where the birds were last seen. This laborious method performed by Lucy Davis and Kee Ya Ting resists the aforementioned predatory capturing of birds through the camera – indeed, the birds are never seen in their entirety. Rather, they reappear as shadows flitting in and out of the frame, reliant on the shifting conditions of sunlight and the environment. The fleeting encounters that I had with these bird-stories as I moved around the installation echoed the ephemerality of my own real-life interactions with them.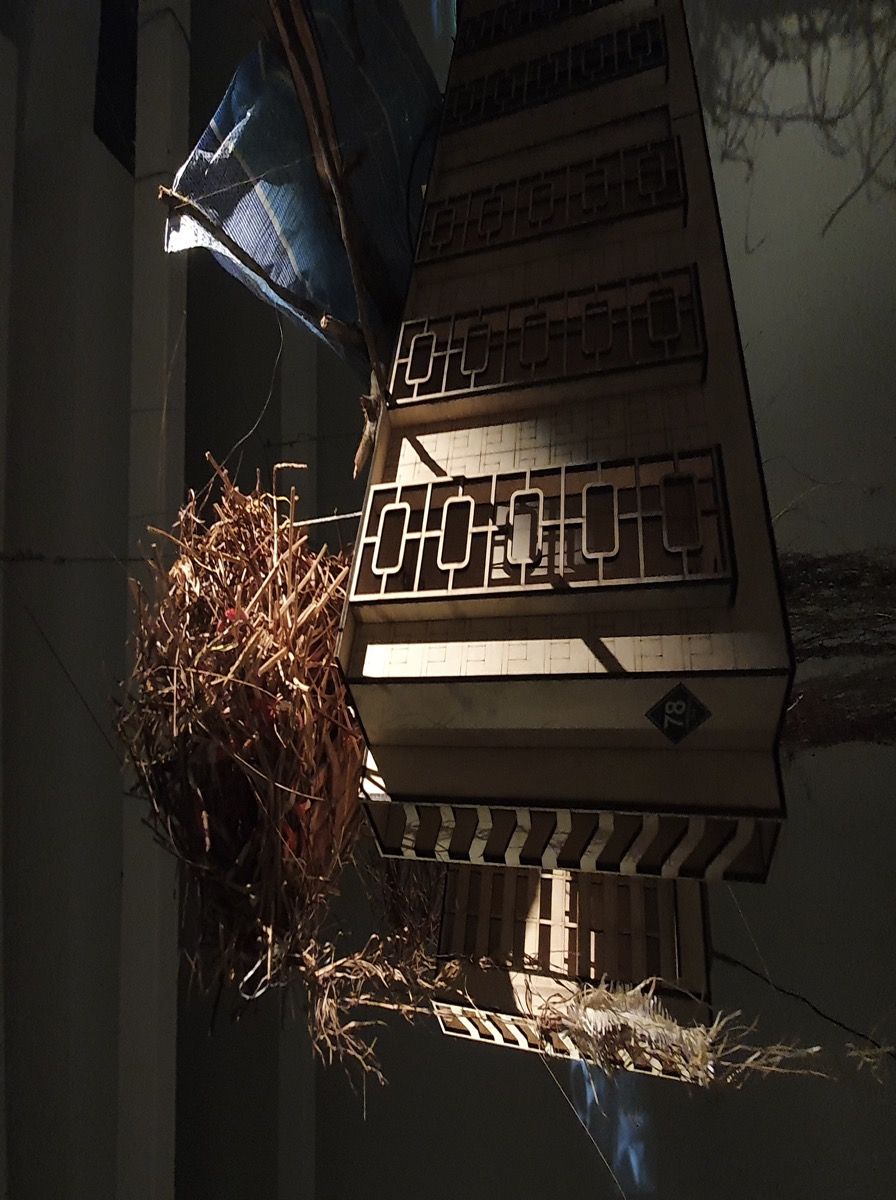 This approach extends further to what I view as the second part of the exhibition, which are the Bird People Assemblages scattered in the space. As much as the 32 short films tell the stories of birds, these assemblages are, in their own way, portraits of "bird people" – tributes to key interviewees for Railtrack Soundmaps. Composed of found photographs and images that have been stitched, cut, manipulated, drawn over and framed with coconut sticks and thread, they float in loose constellations to form a loose portrait of these people. In line with the overall intention of 'storytelling like shadows through leaves', the assemblages make it impossible to fully capture them; rather, they evoke, echo, and generate traces.
Yet another aspect of these assemblages are a series of Malay bird pantuns collated and translated by writer Alfian Sa'at. Pantuns are four-line oral poems and have been both integrated in the short films, sounding in chorus with the bird calls, as well as printed on the walls and perforated in suspended paper, casting shadows as they sway slightly. Not being a native Malay speaker, the words roll off my tongue, initially not with poetic meaning but with the sound of the words, much like human-made calls attempt to mimic those of birds.
"Memasang jerat sudah lama,

Dapat seekor burung nuri;

Saya pergi tiada lama,

Pandai-pandai menjaga diri."

"I have long placed the trap,

Only now have I caught a parakeet;

I will not be gone very long,

Take care of yourself in my absence."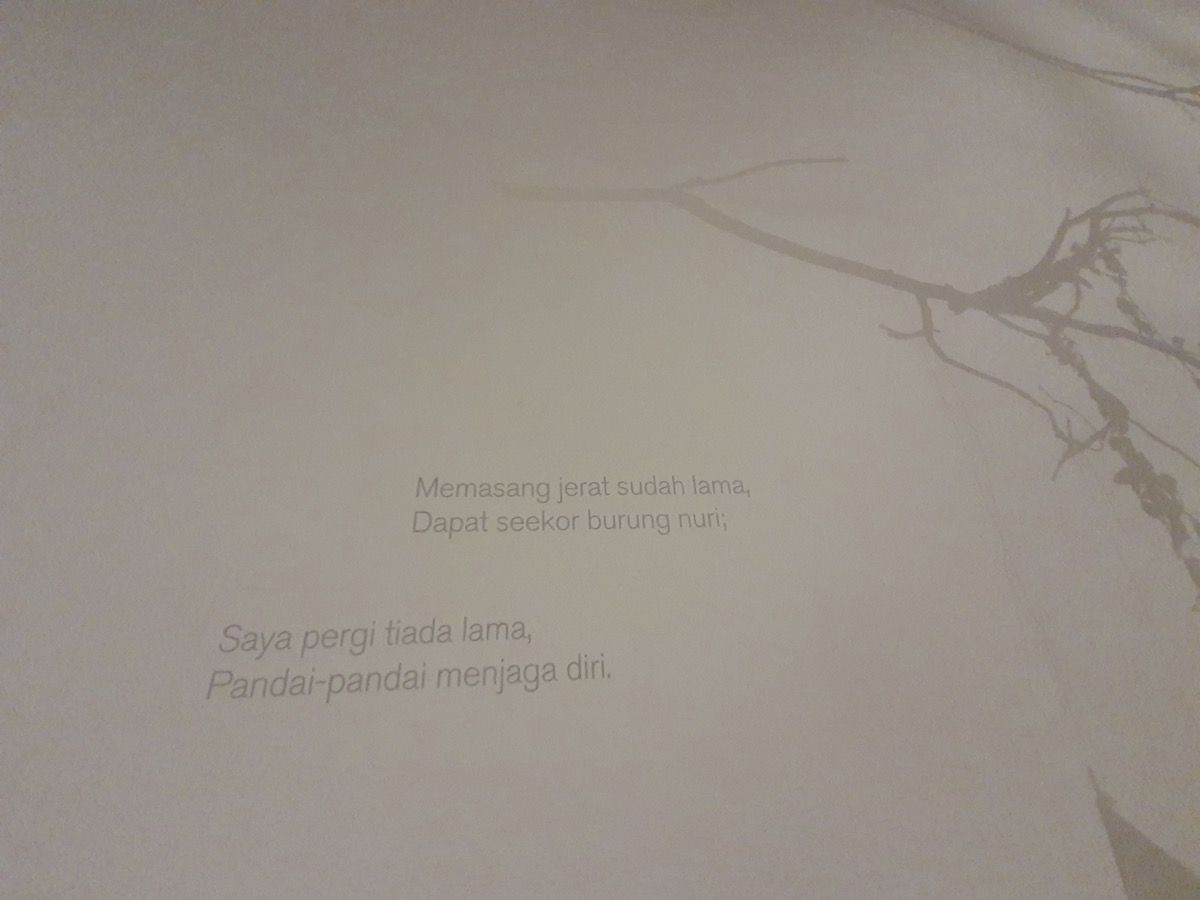 The voices of the "bird people" also resound throughout the Jendela space – running over all the visual elements is an immersive soundscape composed by artist Zai Tang, a polyphonic orchestra of both bird songs and human calls that fade in and out, making me think about mimicry, echoes, and everyday urban animist entanglements.
I'm deeply struck by a specific Bird People Assemblage – titled Enggang!, it's dedicated to the late Subaraj Rajathurai and his family. Subaraj was a veteren self-taught conservationist and wild-life consultant and was pivotal to the Railtrack Songmaps project. His voice and presence was a part of many of the bird-species films, and the soundscape by Zai in this particular iteration of Roosting Post 2 was inspired by Subaraj's expert bird calls.
It occurs to me that this project – developed over years of research, collaborative energies and close, committed listening – is one of love and dedication; from rich, everyday, interspecies encounters, to the dedicated people who work to keep this ecology alive. Behind a black and white photograph of Subaraj and his family, a cut-out image of lungs hovers – a testament to the vibrant breath and life of this remarkable man.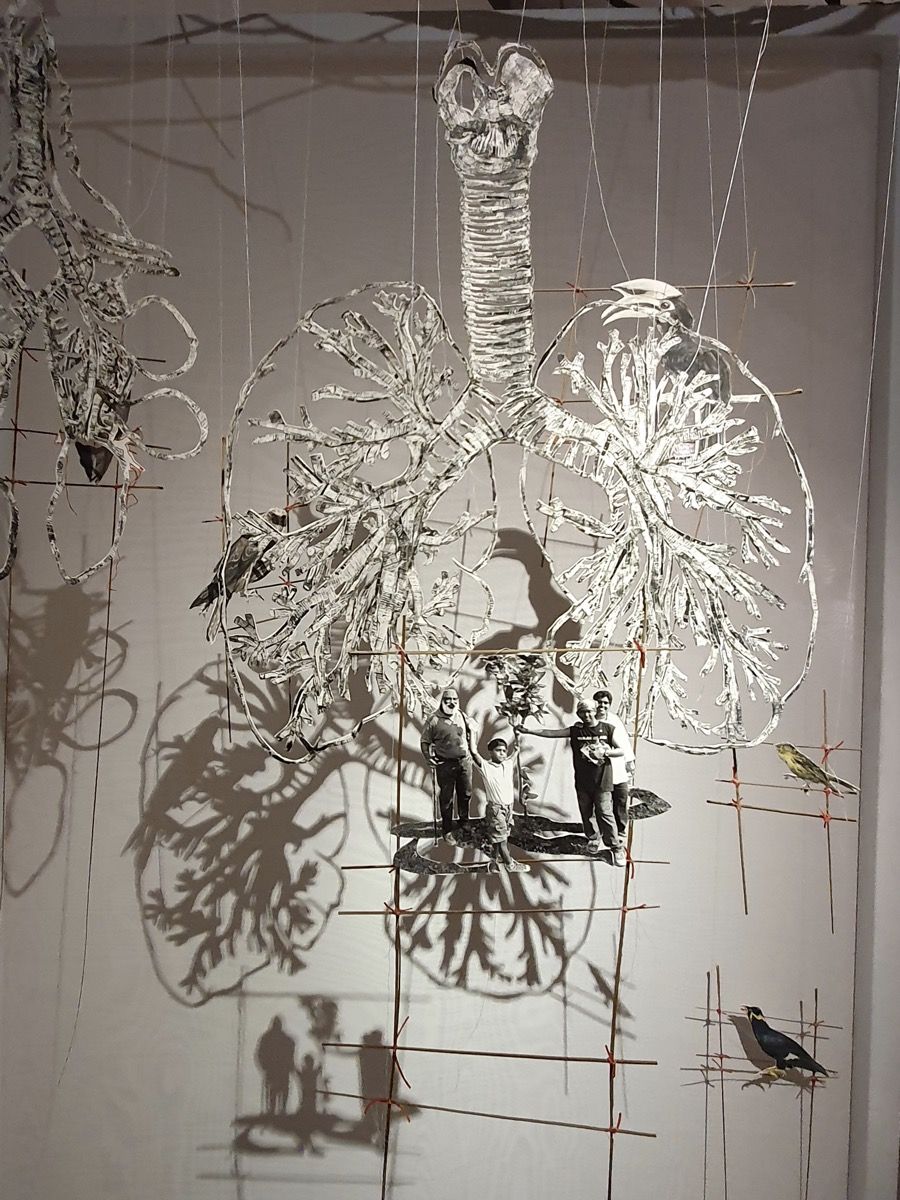 What happens when the housing blocks are demolished, the residents moved out, the rail corridor converted into a manicured leisure zone, and traces of the makeshift community gardens all but cleared? Railtrack Songmaps shies away of making statements or attempting to resolve contradictions; it's fully aware how narratives of heritage or preservation can easily tend to stultifying nostalgia or memorial-making impulses. And when it comes to collating an archive for such a sprawling project, Zachary Chan and design studio CROP.sg took up the challenge to create a limited edition archive that compiled "fragments of memories, images, calls and echoes" from the site across the years of 2013-2020, as well as interview scripts and photographic bird shadow plates used in the 32 films.
I decided to open this last, as it only made sense to me after seeing how all these fragments came together. Putting on the white archival gloves in order to flip through the archival folders, I pull photographs and small texts out from pockets within them. There are 32 folders, each corresponding to a type of bird, and I recognise snippets from the Bird People assemblages and the narrated stories in the films. Dispersed and scattered, it serves as a prototype for a book that averts from being a monolithic record, instead drawing together resonant threads and keeping its structure open and lively.
Layers upon layers, it's worth spending time to follow flight paths through the exhibition. It is also a reminder to myself to listen out for the fleeting magic of birdsong; to appreciate that shifting shadows and lively connections is a way to resist human-centric positions isolated from nature.
Years later, the koel no longer coos outside my window.
_______________________
Railtrack Songmaps: Roosting Post 2 by The Migrant Ecologies Project runs from 17 January to 5 April 2020 at the Esplanade, Jendela (Visual Arts Space).
All images in this article courtesy of the author.