April Fools at Coda Culture may be a solo exhibition by transgender visual-performance artist Marla Bendini, but she'll laughingly tell you that "with Marla, it's always a group show". For this multi-talented artist who is also a musician, drag queen, activist, pole-dancer and aerialist, she's certainly a being who brings her multiple identities to the table. And at first glance, so do the works in the show.
When I visited her in her studio in mid-March, walls were already lined with numerous paintings that explode with colour, symbols and a range of stylistic techniques. Some, like SORRY NOT SORRY, include collaged elements and figures both tonally modelled and flatly painted. Others, such as TOOTH FAIRY and the diptych [BEACH, PLEASE], feature drippy graffiti scrawls and dreamy landscapes respectively. It's a cacophonous crowd in these paintings – almost as if these various beings have stepped in to fill the void that the recent social distancing measures have left in its wake.
If the show comes across as a little discordant, it's because Marla's been doing a little time-travelling here. Many of the works in this show have their dusty beginnings 17 years ago, during the artist's junior college years as an art student. Back then, Marla was still Bendini Junior Ong, and Marla as we know her had yet to be born. After all, she was – is – an identity that Bendini had created in 2007, as a transgender artist exploring the fluidity of identity and perspectives in her art, life, and the spaces in between.
For the occasion of this exhibition, predominantly-performance artist Marla picks up where the painter Bendini had left off, reworking the compositions in layers, even collaging and adding three-dimensional elements where she sees fit. It's a homecoming of sorts for the artist to re-encounter an old identity that has tended to take the backseat in recent years. She says:
"My name [before this show] used to just be Marla, full-stop, Bendini. They were quite separate… but when I became an artist it was like, you know what, I'm both. So now when I go back to my painter roots, I'm drawing more strength from Bendini. I've been drawing and painting since I was a kid. The performer part [of me], the lover, is Marla, but I think I've already whored this Marla character out, and I need to get love back.
And I can only love myself if I go back to myself, you know? I might be de-transitioning in a way, in many ways, but I think I'll only understand this fully a few years from now. Right now, I'm just going through the process, you know?"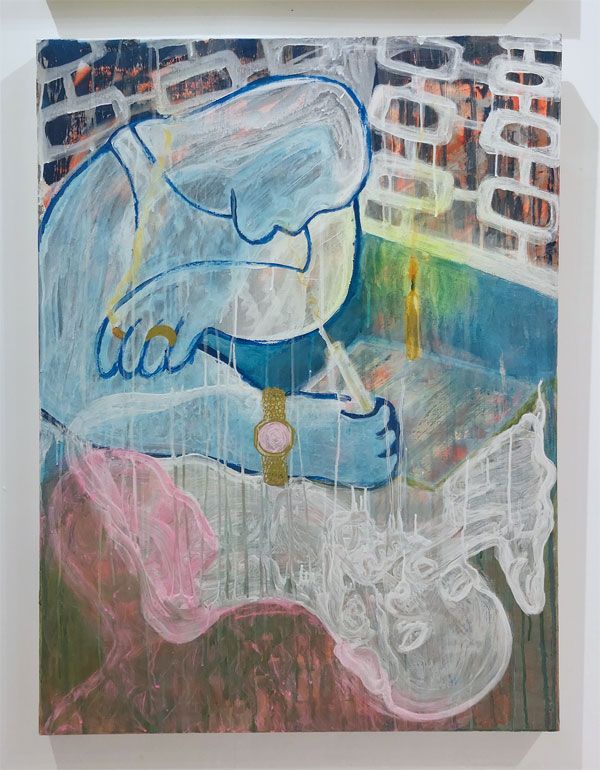 For Marla, finding her way back to her painter roots is a process that involves tuning in to her inner self. It's a way of working that is very intuitive and imaginative – she simply paints that which springs to mind when she considers the existing shapes on the canvas. Where there are none, she would start by making random marks or using spray paint to disrupt the untouched surface, such that these marks then guide the way to the next image that reveals itself to her.
"When I see something [in my head, then] I draw something – so I just keep moving, you know? I don't have to decide what it is or what it's not. I just see it and I put it down," she explains. She talks of painting as a means of hoarding imagery, but also in how forgiving it can be as a medium. "Anytime that I'm not comfortable, I can always paint over, and something else comes out," she says.
The result is a series of paintings, all teeming with surreal imagery and unconventional compositional choices. The basis of YAYA PAPAYA, for instance, was the studio's backyard scene where a papaya tree stands. Rules of realism hold true in the background, where the artist dutifully depicts the mundane details of traffic bollards, a boulder, and a­ low white wall. In the foreground, however, translucent neon body parts delineate something of a frame through which we peer into the background.
In SNUFF, a pair of disembodied hands emerge from the base of the picture plane, functioning again as a framing device. What appears to be a clown-shaped cake sheds a tear that the right hand wipes away. The left hand cups a burning candle that is perched on the cake, as though shielding it from the wind. Hovering in the distance, a hammer looks poised to enter the loop of a hanging noose.
Any one of these objects is laden with its own symbolisms, and the artist has gathered so many in conversation with one another. There is a sense that a highly personal narrative winds through each of these paintings, but it's a story that is not immediately apparent to the casual onlooker. In talking to Marla, I learn a little about how her personal life is one that is filled with moments of both intense joy and sadness, serendipitous friendships and crippling losses. She looks to her work as a coping mechanism:
"I pour all my energy into art, because I have a void inside me somehow, that I'm trying to fill up – with good and bad things (laughs). I'm not trying to make things, but I'm just trying to get [things] out. Instead of filling myself up, maybe if I put myself out there, if I'm in more people's lives, if I go out there and touch more people, then maybe I won't feel so empty inside. Rather than to fill myself up, I pour my void out, you know, somehow?"
But as to whether it is important for viewers to understand the story behind the paintings, Marla exclaims, "Don't need lah! They're just personal symbols." The artist intends for the images that she creates to be open to interpretation, akin to the way that Rorschach tests function. As it stands, the paintings do not follow conventional logic, but draw from the discordant structure of a dream. In the manner of the Surrealists, April Fools only makes sense if you commit to an irrational approach. The rules of the day are slightly different here, but then aren't they always, every April Fools'?
_______________________
In light of the evolving COVID-19 situation, viewings of April Fools at Coda Culture are by appointment only, from 4 to 30 April 2020. Please email codaculturesg@gmail.com if you would like to enquire about the works.