Are you #cookingduringcovid, Plural pals? In these strange and surreal times, many of us find comfort and some measure of calm in the ritual of preparing food and sharing a meal with our loved ones (within the same household only, of course! ). If you're craving something aromatic, delicious and easy to make, here's a simple recipe for coconut chutney, from visual and performance artist Chand Chandramohan, that you can still get the ingredients for since, at time of writing, markets are classified as an essential business and remain open. Just don't forget your mask!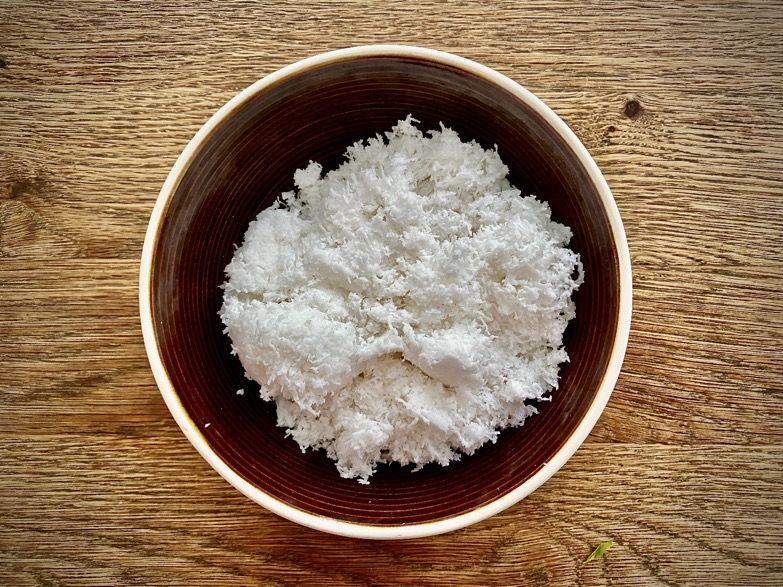 Ingredients for grinding
½ cup tightly packed fresh grated coconut or ½ cup desiccated coconut
2 tablespoons roasted chana dal – optional
1 or 2 green chilies (chopped)
½ inch ginger – optional, you can also add 1 to 2 small garlic cloves (chopped)
salt to taste
Ingredients for tempering
½ teaspoon mustard seeds
½ teaspoon urad dal (split & husked black gram)
½ teaspoon cumin seeds – optional
1 sprig of curry leaves or 9 to 10 curry leaves
1 pinch of asafoetida (hing)
1 dry red chili – broken and seeds removed
½ tablespoon oil – sesame, peanut, coconut or sunflower oil
If you're not familiar with some of the ingredients, like chana dal, urad dal and asafoetida (or hing), fret not, you can find them easily at any spice shop in Little India. Just ask!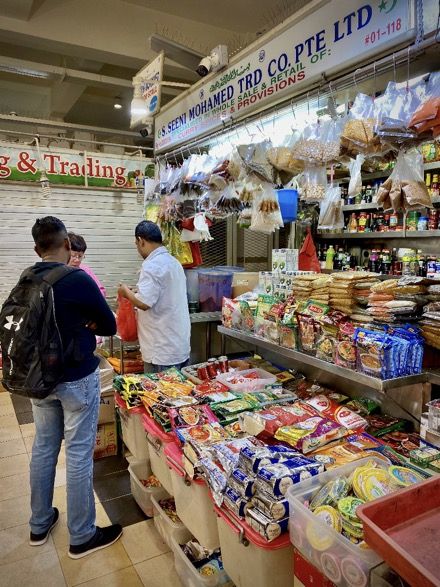 Grinding
You'll need a chutney grinder jar or any small grinder jar to grind the grated coconut, green chili, ginger, roasted chana dal together. Add salt to taste, along with 3 – 4 tablespoons of water (more, if necessary) and grind these together to a smooth consistency. Transfer the ground ingredients into a heatproof bowl and set aside.
Tempering
Heat the oil in a small pan and add the mustard seeds. When the mustard seeds begin to sputter in the oil, add the cumin seeds and urad dal. Fry these together till the urad dal becomes golden and aromatic, then add the curry leaves, red chili and asafoetida. Fry till the curry leaves become crisp and the red chillies change color.
Turn off the flame and immediately pour the tempering onto the chutney. Mix well. And there you have it, folks, homemade coconut chutney!
The chutney is usually eaten as a side dish, served with idli, dosa, vada, or Pongal. These are readily available from Indian restaurants and hawker stalls, like my favourite one in Tekka market (see pic below), where I got my stash of idli. If you're feeling ambitious, you can try to make your own idli with this recipe.
The Plural team got to taste Chand's coconut chutney paired with her delicious homemade idli when we visited her at her performance-cum-installation, An Actual Mama Shop, which was set up in the subterranean space that is the Substation's SAD Bar. The work was a tribute to the traditional mama shop and its role in building and supporting immigrant communities, as well as a lament for their waning numbers, as they disappear in the face of gentrification and urban development. As part of the installation, and referencing the fact that mama shops traditionally stock common ingredients used in Indian cooking, Chand uploaded this recipe for coconut chutney, along with 11 other recipes for traditional Indian dishes into a Google folder. I'm a huge fan of Indian food, so I'm planning to try more of them. As we're all #stayinghome for the next few weeks here in Singapore, why not do the same? We'd love to see what you've made, so feel free to share your photos in the comments!