This article by Tamaryn tied for second place in the Short Form Lucha Libre 2020, a writing contest jointly organised by Plural Art Mag, the Singapore Biennale and the International Association of Art Critics, Singapore Section (AICA SG). Heartiest congratulations, Tamaryn!
Out of the corner of my eye I spy, on the spartan white walls of this cavernous exhibition hall, nine eyeballs staring back at me.
I walk over to what looks as if a tray of knick-knacks from Ripley's Believe It or Not had apparated into the National Gallery in the middle of last night and magically stuck its gravity-defying self onto this wall. Gnarly antlers, perfectly spherical marbles, paint-dipped driftwood, rusted nails, rhinestones and a whole, dappled shell of a tortoise overflow the confines of their wooden frame. They thrust themselves towards my slightly alarmed, sufficiently intrigued self. What in the world is going on here?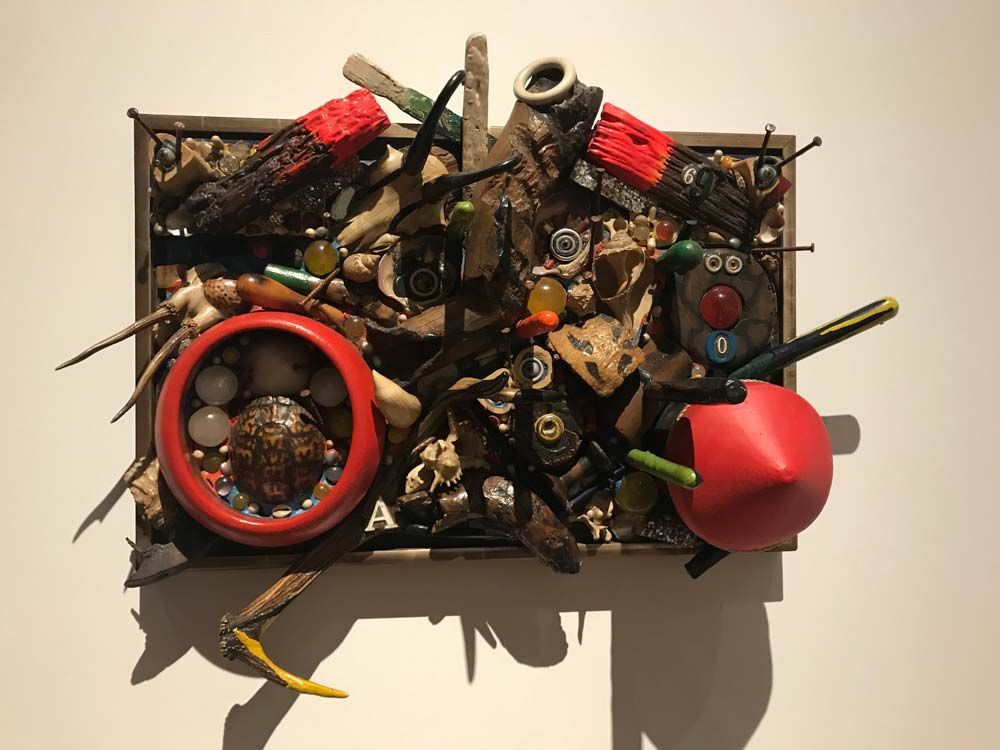 As it turns out, this is Fluxus, one of a series of assemblages titled Congregations by Filipino-American artist Alfonso Ossorio. Fitted within a frame and displayed like any regular painting upon the wall, Fluxus otherwise flips the bird at categorisation – it transcends easy classification as painting, collage or sculpture. The divide between natural and man-made objects in this assemblage is barely discernible – fragments of wood are painted in plasticky tones, while quartz balls appear upon closer inspection to be more likely synthetic resin. While definitely fascinating to examine, Fluxus left me curious about what the artist was hoping to accomplish by throwing these disparate objects together – beyond perhaps aesthetic amusement, that is.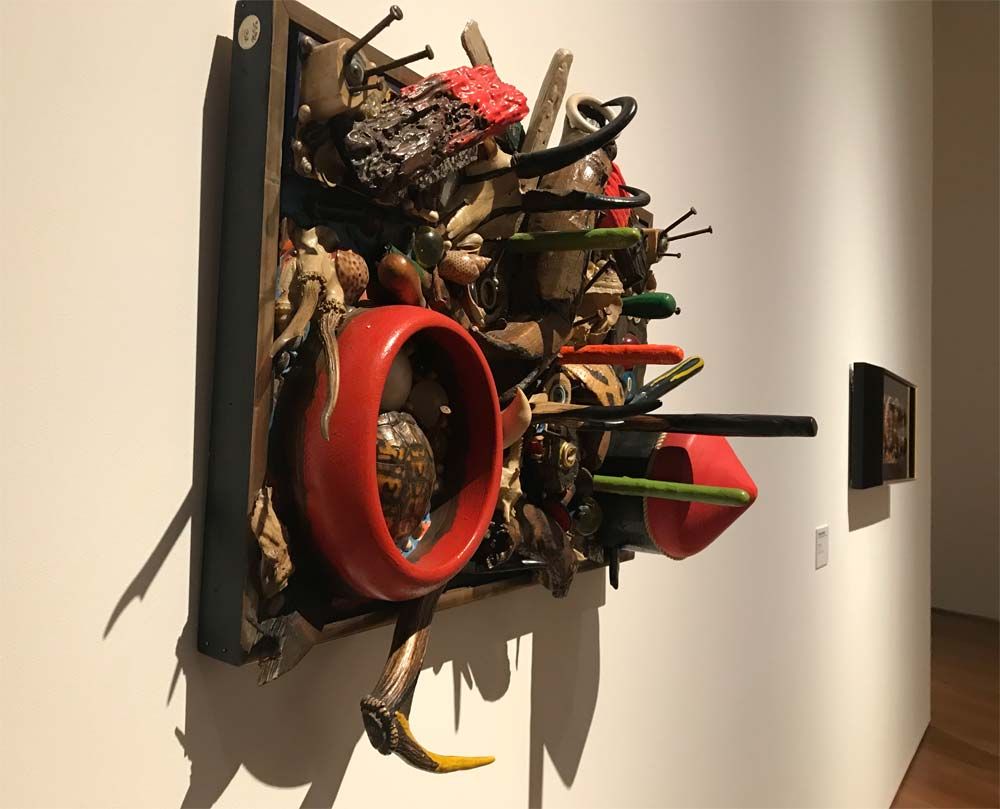 Amidst the other more elegant, overtly conceptual pieces (such as Min Thien Sung's Time: Dust series, displayed opposite Fluxus, which uses dust to 'paint time'), Fluxus stands pretty crassly. Its namesake, after all, is the art movement from the roaring '60s, whose manifesto infamously proclaimed to "purge the world of bourgeois sickness" and to "promote…anti-art". Between its blatant disregard of two-dimensional confines, its multitude of glaring eyeballs and the prominent "69" displayed amongst the scattered objects, examining Fluxus almost feels like sharing a naughty little schoolyard snigger with the artist himself.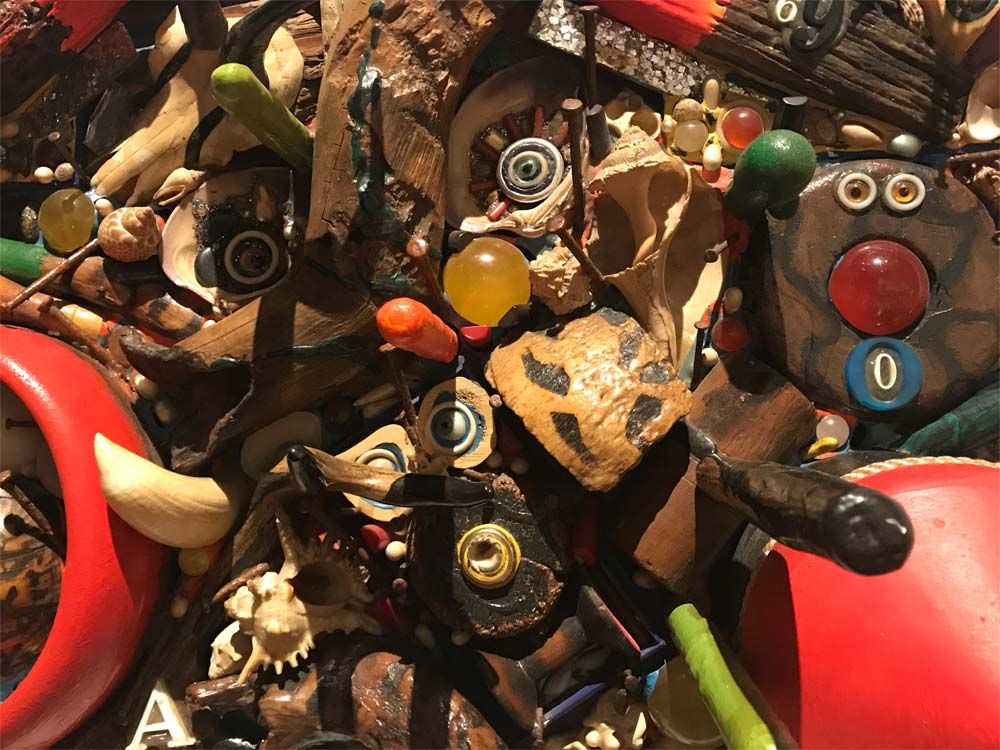 I was getting major art brut ('outsider art') vibes from Fluxus, which made sense when my research revealed that Ossorio was a contemporary and close friend of Jean Dubuffet, the grand-daddy of art brut himself. Art brut was a term coined by Dubuffet to describe art created outside the boundaries of art institutions or the mainstream art culture, such as by psychiatric patients or children. Upon meeting in 1950, the pair became close friends, with Ossorio even housing Dubuffet's collection in his sprawling estate. Inspired by Dubuffet's assemblages, Ossorio began creating Congregations in the late 50s, and continued working on them till his death in 1990.
Ossorio's choice of the title, Congregations, was not simply to invoke creepy personification of the objects coming together of their own accord (as my very vivid imagination had assumed), but was also in connection to the artist's lifelong Catholic faith. To him, the aim of religion was "to awe man with the splendor of his existence. By a set of unexpected juxtapositions, it must put you in a state of realisation of how splendid things can be, even if they are horrible." Ossorio sought a different expression of his religious convictions, by materialising this reality and duality of existence through his artworks.
As Ossorio states, "even a little waste piece of plastic or a bone is just as much alive as the abstract concept of God, which is meaningless unless it is incarnated." In indiscriminately bringing together discarded man-made objects and fragments of dead natural material, Ossorio resurrects them equally – bridging the boundary between the vulgar and tasteful, between beauty and decay.
________________________
Fluxus is on display as part of the Singapore Biennale 2019 (ongoing until 22 March 2020), at the National Gallery Singapore. 
PLURAL IS PROUD TO BE AN OFFICIAL MEDIA PARTNER OF THE SINGAPORE BIENNALE 2019, WHICH RUNS FROM 22 NOVEMBER 2019 TO 22 MARCH 2020. FOR MORE INFORMATION, PLEASE VISIT SINGAPOREBIENNALE.ORG.